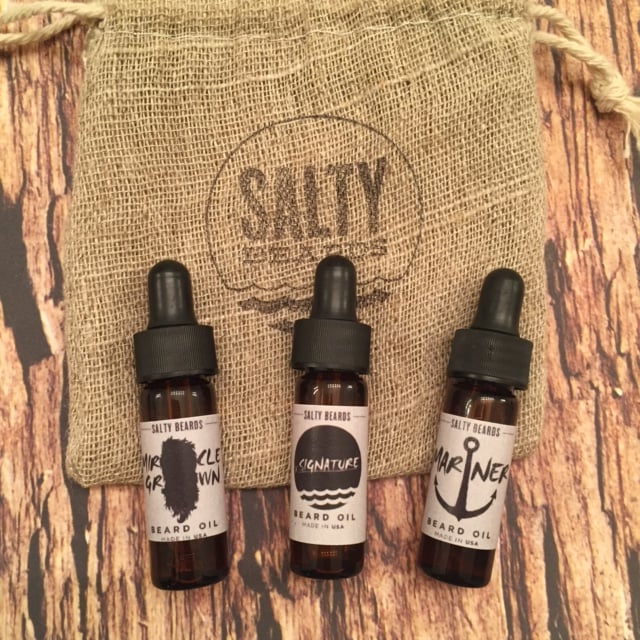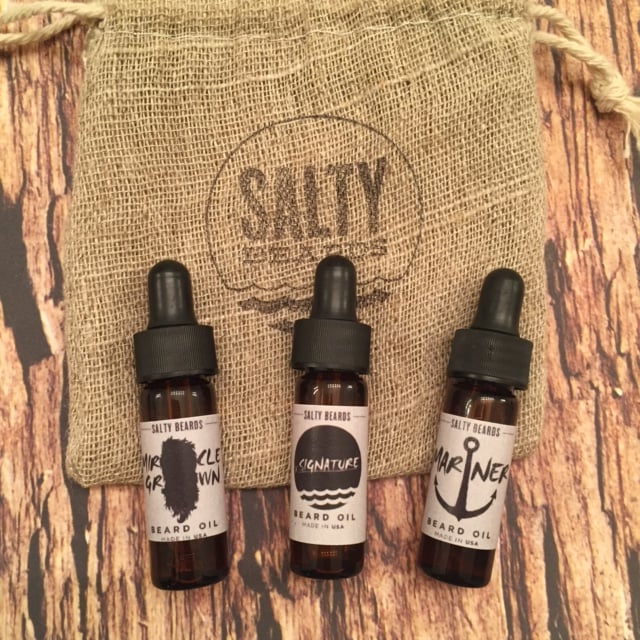 3 Pc Beard Oil Travel Set
$15.95
Our Beard Oils are now available in a 3 piece travel set. $15.95
You will receive one dram of each Beard Oil; Mariner, Our Signature, and Miracle Grown, with a Salty Beards burlap bag. If you have not tried our Beard Oils, this is a great way to sample them as well.
OUR BEARD OIL IS HANDMADE WITH 100% NATURAL, ORGANIC RAW INGREDIENTS!
Our Beard Oils are made with only the finest and purest natural blends of oils. Designed to be lightweight, free from weighing down your beard or feeling greasy. Keeping your beard conditioned and shiny. The only thing left behind is the intoxicating fragrance.
The Mariner Beard Oil.
Best for true Salty Beards keeping your beard smooth and healthy after long days in the salty ocean.
Ingredients: Jojoba oil, Sunflower oil, Olive oil, Macadamia Nut Oil, Apricot Kernel Oil, Essential Oils, Fragrance.
Our Signature Beard Oil.
Ingredients: Jojoba oil, Grape Seed Oil, Olive Oil, Vitamin E, Macadamia oil, Essential Oils, Fragrance.
** NEW** THE MIRACLE GROWN BEARD OIL!
Miracle Grown is all Natural and Organic.
We have combined a powerful mix of proven, all-natural ingredients to maximize the growth of your facial hair.
Miracle Grown is safe. Unlike other hair growth products, Miracle Grown contains no chemicals or dangerous toxins. Every ingredient is all-natural, which makes it perfect for even the most sensitive skin-types.
*Promotes Beard Growth
*Stops Beardruff
Subtle scent
Made from 100% Natural Ingredients
Do a small skin test before using fully, might contain allergens to certain individuals.
3- 1 dram travel size bottles with dropper.
Benefits:
Stops Beard Itch
Stops Beardruff
Intoxicating subtle scent
Made from 100% Natural Ingredients
Every item you purchase, helps us provide food, water and clothing for the homeless. #HelpingBeards

HOMEGROWN IN CALIFORNIA since 2012